Alpha Motor Corporation releases limited edition electric Montage Coupe
American automobile manufacturer Alpha Motor Corporation has unveiled its exclusive electric Montage Coupe 
The limited electric Montage Coupe will reportedly be made available exclusively via private sale, sold as a custom-built electric vehicle.
How Alpha Motor Corporation is electrifying cars like the Montage Coupe
The American company said it will produce the Montage model in the United States, on a custom electric vehicle platform, constructed from scratch. The platform will be developed using Alpha Motor Corporation's Computer-Aided Development process. 
"As we achieve milestones along our roadmap to mass production, opportunities are created to build special vehicles. Montage was created to bring people together to support electrification," said Alpha Motor Corporation.
"Our electric cars are not built to feel electronic, and Montage is a testament to the EV revolution. Alpha is a collective vision to Move Humanity."
Alpha Motor Corporation has said its sustainability initiative is what leads the company to manufacture electrified cars. Meanwhile, the company has also revealed it is developing manufacturing solutions which work to decrease the carbon footprint of car manufacturing and industrialisation.  
"Have you ever experienced a song that changed the world? We are committed to do exactly that by bringing our vehicles to the market and by innovating the process we undertake to build them," the company said.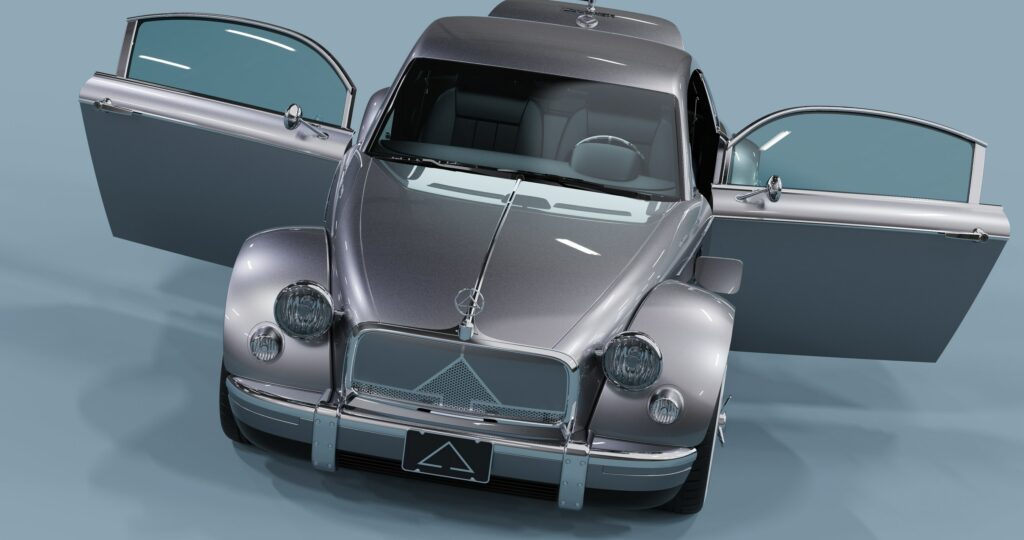 Important details and specifications of the model
Alpha Motor Corporation's Montage Coupe features a custom-built Electric Drive Unit, which is predicted to generate 3,335Nm of torque and 150kW of power. The car's gearbox has a two-stage spur that is designed to perform above 92% peak efficiency.
The model will apparently also feature a custom-built lithium-ion battery pack, with a range of approximately 250 miles. Prospective drivers should also note that the vehicle comes with an onboard charger that has fast-charging capabilities. The model also features electric steering, independent suspension, as well as performance disc brakes and wide performance tires.
In terms of the model's dimensions, it is 54 inches tall, 73 inches wide, and 173 inches long.
The Montage Coupe is painted in "Time Machine" silver, and the car is designed to be a teardrop shaped cabin with fine details.
Inside, the model has two full-size doors and seating for two passengers. There is additional storage space in the back compartment, as well as underneath the car's hood. Advanced interior features include a digital speedometer, along with a digital sound system.
The leather seating itself comes courtesy of Spinneybeck, a company that specialises in Italian upholstery with a sustainable approach.
"Spinneybeck introduced full grain, aniline dyed Italian leathers to North America in 1962. Over the decades, this company has evolved from solely a leather supplier for upholstery and aircraft interiors to a manufacturer of pioneering architectural products with a focus on natural materials," said the company. 
"The extensive product line now includes sculptural wood and acoustic cork which prove that sustainability, beauty, and performance can go hand in hand," said Spinneybeck."
Using unique and sustainable materials
Alpha Motor Corporation announced that it had partnered with Shawmut Corporation, a leading automotive interior fabric supplier, for the Montage Coupe model. The model features innovative and sustainable materials from Shawmut including Neoluxe and Spacer Knit. Neoluxe mimics the texture of suede, while reportedly having 50% less of a carbon footprint than traditional urethane-based faux suedes. Meanwhile, Spacer Knit refers to a lightweight material with a breathable knit structure, which apparently does away with the need for foam applications. 
The vehicle is also made with recyclable materials that are themselves made from single-component recycled fibres.
"Shawmut is excited to bring our very best in innovative interior materials to Alpha. We share their vision to take these components to the next level of recyclability and carbon footprint reduction, while also saving weight from traditional materials," said Mollie Engel, Vice President of Design and Development for Shawmut Corporation.
For more Mobility news, click here.