3-in-1 appliance from Aqua Optima offers filtered water on-demand
Water dispenser and filtration specialist, Aqua Optima, has launched the Aurora Collection, a range of water filter stations that deliver hot or cold filtered water on demand. 
Heading up the new collection, is the 3-in-1 Aurora Instant Hot & Cold Water Filter Dispenser, powered by Strix technology, which is a kettle, water cooler and water filter all in one.
Aqua Optima said it is the only plug and go water dispenser to deliver fast-flow filtered hot, boiling or chilled water at the touch of a button.
The appliance features 49 potential option combinations, which allow the user to select from seven temperature options and there are seven volume options ranging from 200ml to one-litre.
The "plug and go" tabletop appliance offers a great solution to those who do not have the space for a larger, manually plumbed alternative. However, despite its compact size, it still features a 3.8-litre capacity.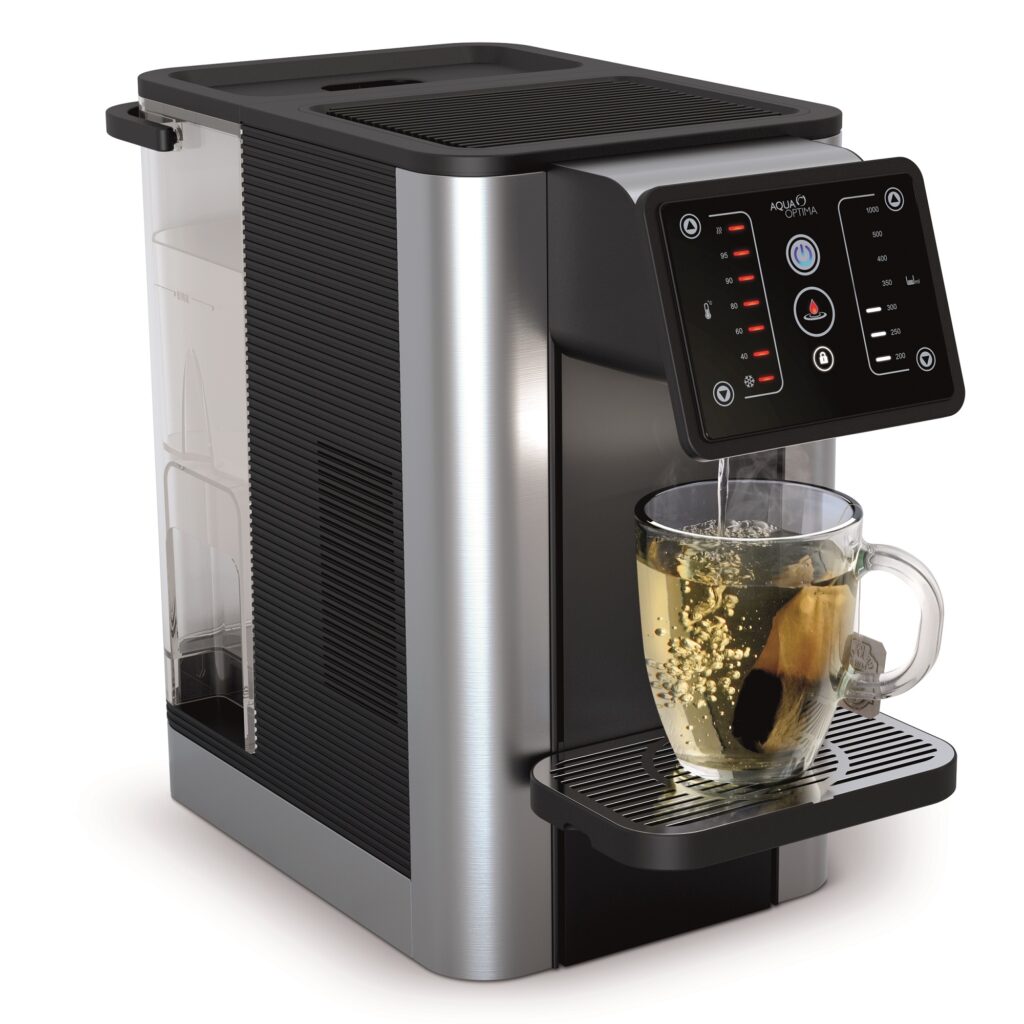 The Aurora Instant Hot & Cold Water Filter Dispenser uses Aqua Optima's Evolve+ advanced water filtration technology, which has been developed to significantly reduce unwanted substances found in tap water. Whilst filtering out contaminants such as limescale, microplastics, chlorine, heavy metals, herbicides and pesticides, it also reduces chlorine and limescale by up to 80%.
For consumers keen to make greener choices, the Aurora Instant Hot & Cold will be an appealing prospect as each filter, which is three times faster than the leading brand, lasts for 30 days or 100 litres of water, saving the equivalent of 200 single-use 500ml plastic bottles. With Brits, for example, estimated to waste 70 million litres of water a day, and a lot of energy, by over-filling kettles, the Aurora is good for the planet too, by only boiling the amount of water required by the user. 
In addition, users in the UK and the Republic of Ireland can recycle the filters for free thanks to Aqua Optima's partnership with TerraCycle.
The Aurora Instant Hot & Cold combines its advanced functionality with remarkably quiet operation and has been awarded the Quiet Mark, making it one of the quietest appliances in its category.
Graeme Rodgers, category manager at Aqua Optima, said: "We are very proud of this collection, particularly the Aurora Hot & Cold, as we think we've managed to design and create an appliance which combines a kettle, chiller, and filter jug into one small footprint appliance.
"It doesn't require any plumbing, is simple to operate and gives the user the ultimate in controllability, with multiple temperature and capacity options. At a time when consumers are evaluating not only their environmental choices but their energy use from a cost perspective, the Aurora offers a perfect solution."
Key selling points
A kettle, water cooler and water filter all-in-one
49 potential option combinations
Filters last for 30 days or 100 litres of water